Suzanne's Mum's Marmalade Bread & Butter Pudding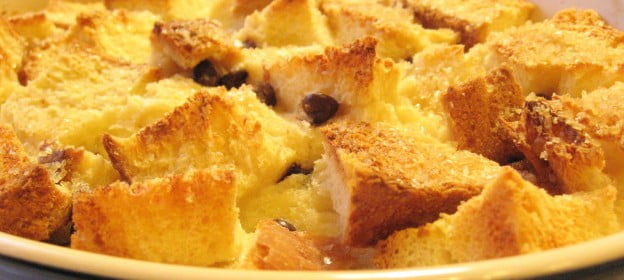 ---
How to make this recipe
25g butter, plus extra for greasing
8 slices of bread
50g Sultanas
1 tsp vanilla essence
2tsp cinnamon powder
350ml milk
50ml double cream
2 eggs
25g caster sugar
Demera sugar to dust
Step 1: Make marmalade sandwiches with generous amounts of butter and marmalade.
Step 2: Mix together the eggs, cream, milk, vanilla and caster sugar until nicely combined (custard mix).
Step 3: Quarter the sandwiches and lay out in a deep baking dish, sprinkle the sultanas and mixed peel over the top but put a few in amongst the sandwiches.
Step 4: Pour the custard mix and make sure the sandwiches are well covered. Grate the nutmeg over the top and leave to soak for half an hour.
Step 5: Sprinkle the Demera sugar and put dish in Bain Marie at bottom of oven (160 C).
Step 6: Cook for 60 to 90 minutes, until centre is still wobbly i.e. needs to be only just set.
Suzanne's mum used to leave the soaking overnight, cook the next morning and serve warm at lunchtime or tea time with clotted cream! NOT FOR THOSE ON A DIET! For those who don't want any Whisky flavour, use Wooden Spoon's Seville Thick Cut marmalade. Suzanne is our senior Master Preserver.