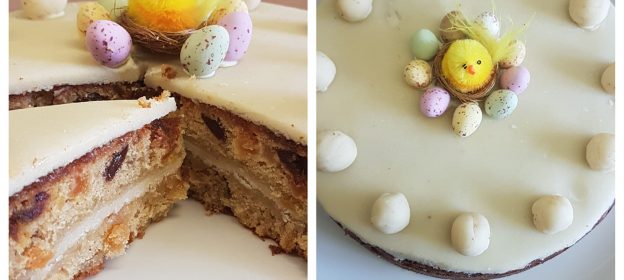 ---
Ingredients
How to make this recipe
This delicious (tried, tested and devoured by the whole team!) Simnel cake was made by our very own Denyse.
Recipe:
Easter Simnel Cake
175g/6oz soft light brown sugar
175g/6oz unsalted butter (softened)
175g/6oz Self Raising flour
3 large eggs
25g/1oz ground almonds
2tbsp whole milk
110g/4oz sultanas
110g/4oz glace cherries (chopped)
1110g/4oz diced stem Ginger (wooden spoon)
1tbsp Thick cut marmalade (wooden spoon)
110g/4oz Apricots, chopped (wooden spoon)
1 tsp mixed ground spice
3 tbsp apricot Jam (wooden spoon)
1 packet of marzipan (500g)
1 egg beaten for the topping
Method
Preheat the oven to 160c/320f/gas 3
Line a 20cm cake tin with baking parchment & grease well with butter/margarine.
Sieve the flour and sugar into a large mixing bowl then add the mixed spice. Stir to
combine
Add softened butter and mix, making sure the mixture is even throughout.
Add the eggs & milk, beat thoroughly.
Add all the chopped fruits & ginger, making sure everything is combined
Lastly, spoon in the marmalade & give it a good mixing.
Spoon half the mixture into the prepared cake tin.
Roll out approx. ¼ of the marzipan into a circle & lay on top of the mixture
Then spoon the rest of the cake mix on top.
Place in the centre of your oven & bake for approx. 11/2 – 2hrs. keep an eye on the
Cake and cover with baking parchment after an hour to save the top from burning.
It should look golden brown (test with a skewer or lightly press with your finger
It should spring back when cooked)
When the cake is completely cooled, warm up the apricot jam & brush the top
Roll out the marzipan (leaving some for the balls) then as before roll into a circle
For the topping. You can crimp the edges or leave plain, then decorate with the
Marzipan balls, brush with a little beaten egg and lightly brown under the grill
Finish off with a your festive fluffy chick!